Orders and information
+420 603 845 020
+420 733 531 092
objednavky@sapro.cz
Monday - Friday
8:00 - 15:30
Přenosný reproduktor Krüger&Matz KM0559 Music box GO!
Your price exc. VAT
32.39 EUR
Recycling contribution
0.25 EUR , VAT:  21%  (Rádia radiobudíky, radiomagnetofony, radiopřijíma)
Your price  with RF*
32.64 EUR
Your price inc. VAT
39.49 EUR
Warranty enduser
24 Month
KM0559 Bluetooth reproduktor Music Box Go!
Vyberte si správný reproduktor, který nejen posílí hudební atmosféru během setkání s přáteli, ale také dokáže z takového setkání udělat skutečnou párty. Reproduktor s LED diodami Kruger & Matz Music Box Go! je lehké a kompaktní zařízení, které můžete snadno vzít s sebou k ohni nebo ke svým přátelům. To vše díky pohodlnému popruhu připevněnému k zařízení.
Pokud přemýšlíte, jaký reproduktor na večírek bude nejlepší, právě jste našli odpověď! Reproduktor Kruger & Matz Bluetooth je vybaven dvěma 4 "měniči o výkonu 8 W a zaručuje dokonalou kvalitu vašich oblíbených skladeb a vstup pro mikrofon zajistí mnoho radostných okamžiků během karaoke zábavy.
Pozoruhodná je také rozmanitost médií, která můžete použít k přehrávání hudby na Music Box Go! Kromě bezdrátového přenosu přes Bluetooth 5.0 máte k dispozici USB 2.0, AUX a čtečku karet micro SD. A co víc, funkce True Wireless Stereo umožňuje bezdrátové spárování dvou reproduktorů Kruger & Matz mezi sebou, což vaší párty dodá větší hudební sílu.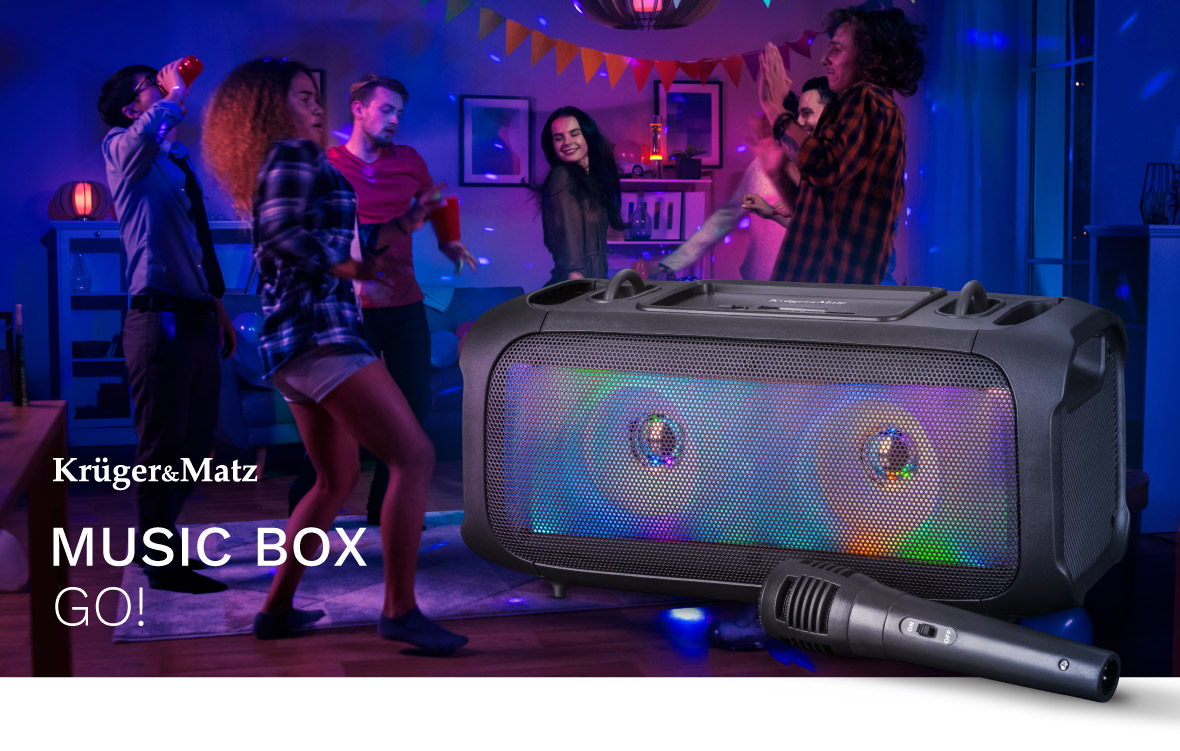 Výkon: 8 W
Impedance: 2,8 Ohm
Frekvenční odezva: 50 Hz ~ 18 kHz
Poměr S / N:> 80 dB
Reproduktor: 2 x 4 "
Frekvence FM: 87,5 - 108 MHz
Bluetooth: 5.0
Podporované formáty: MP3
Funkce TWS (propojení dvou reproduktorů dohromady)
Vstupy / výstupy:
Port USB 2.0
1 x vstup pro mikrofon (6,3 mm jack)
Vstup AUX (jack 3,5 mm)
Micro USB zásuvka
Micro SD slot
Napájení: 5V
Baterie: 3,7 V / 1 800 mAh
------------
Rozměry: 307 x 142 x 145 mm
Hmotnost: 1,4 kg
Balení obsahuje:
Reproduktor
Mikrofon
Ovladač
Popruh na přenášení
Usb micro kablík

Find better price on net?
Send info about this product to friend